A complete stranger totally made my day.
After working out I stopped into my favorite
Baja
style Mexican food place in LA to pick up some dinner on my way home. I go this place at least once a week, whenever I am feeling like I want "a little more" than what those other places have to offer. Its like a
Baja
Fresh or
Sharky's
but a thousand million times better. It had been about two weeks since my last visit though because I was out of town and stuff, and I was totally craving it.
Anyway, I walked in and walked right up to the counter. Without hesitation the lady at the register called out my order to the cooks and rung me up. She is this cute Mexican girl; early twenties, nice smile, a little meat on her bones, and she's always super friendly and cheery. As we are waiting for my receipt to print she asks me in her cute accent, "Are you on a diet?" To which I honestly reply, "No." She says, "
Ohh
, you look more skinny. More (insert the picture below)." She did the arm thing and made the little puckered lip face and everything. It made me laugh. And I said, "Oh, well thanks."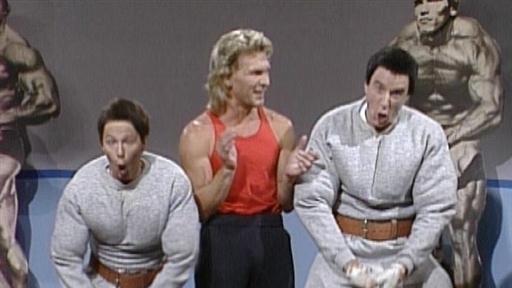 So great. Totally made my day. I have been working my ass off for the past couple months and things are going pretty well. I mean, this person who is essentially a stranger was able to notice a change, which is a really good sign. That was exactly the boost I needed going into pride weekend here in Los Angeles where all the hottest men will be running around in
speedos
.
-
FQ